Open and shy.
Rich and poor.
Patriarchal structures and lived gender equality.
About the differences of this world.
And something which is annoying everywhere.

(part 2)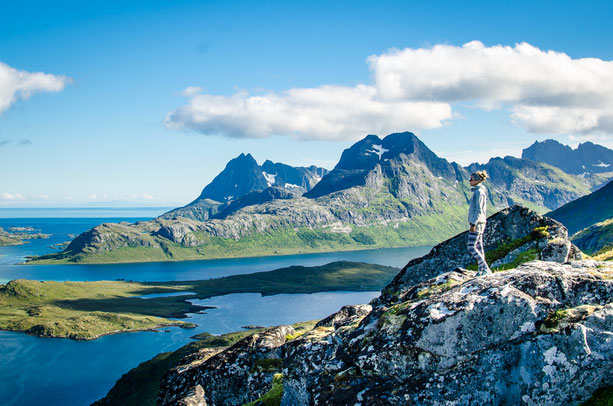 (all of the pictures show the Lofoten)
Thanks to Peter for some of the pictures!
Cold and warm. In the last blog I talked about temperature and climate differences. These may also have an impact on the mentality of people? As known, the people of the South are usually more open. Let's think of Italians, the Spanish, and the French. The northern people are somewhat more closed. I also had this experience. I flew from California to Norway, was previously in Guatemala and Mexico. And the differences could not be any bigger. In the US it's easy to talk to strangers. A 'how is it going?' is on everyone's lips. Almost everyone spoke to us when they saw the loaded bikes. Especially in cities, when the bike stand next to us you always got involved in conversations. Where do you come from, where are you heading, how many kilometers, where do you sleep etc. Sometimes it was almost annoying. WHILE traveling in groups we sometimes laughed at each other, winked and gave signals: 'Its' your turn to answer and do the talking haha'. Sometimes we just wanted to eat in peace or just hang out in the cafe and use the WIFI. But it wasn't possible. In Mexico, especially on the Baja California, cars honked constantly. People waved so often out of the cars that I could hardly hold my handlebars as I always tried to wave back. People constantly talked to us. Even in the small Mayan villages, where people were very shy, most of the women laughed at me, very much to the disappointment of my former traveling partner Kieran. He did not get a smile from the female side. This would have been inappropriate from their cultural point of view. Not to mention the children in the small villages of Central America. 'Gringo' and 'Gringa' they screamed loudly and ran towards us. Originally 'Gringo' rather meant an ugly word for the 'white Americans' but today however it's mostly no longer used in the negative context. The children stopped at the edge of the street, stretched out their hands for a HighFive and smiled. Little boys, perhaps 8-12 years old, carried heavy wood down the mountains on their backs, sweating on their foreheads, but they were happy when they saw us. The girls balanced water jugs on their heads and looked at us with wide eyes. We often received invitations from people whom we just happened to meet. If we need a place to sleep? Or just askinga bout the next camping possibility would end in an invitation.

Here it is somehow different. When I smile at unknown people I recognize for a quarter or half second surprise in the eyes. Unfamiliarity. Then maybe a smile comes back. Not always. Sometimes they look away, being shy or confused. Rarely I get a smile from people first. Although I often recognize curiosity in their glances. I feel when they look, but as soon as I look back, they are turning their head away. Norwegians and Swedes appear more reserved and shy. Well, touring cyclists are quite common here. On the Norwegian coast are hundreds of us. But it is not about being 'special'. On the Pacific Coast Trail of the USA, traveling cyclists are not a rarity either, but there were more of these small encounters, the short talks, the thumbs that one gets shown when you climb a steep road, a big smile... That motivates, it is fun and pleases me. I am an open-minded person, interested in encounters and like to go through the world smiling. I believe people here need some more time to warm up. If you give them some time, the people here are warm and open as well. Lovely and helpful people. I am once again grateful for networks such as Couchsurfing and Warmshowers. They make it easier to get in touch with people, so I'm not completely alone.
Where there is no waving and no greeting on the street, there is also no whistling. No blown kisses. No international and very obvious gestures that I try to overlook. No comments which I fortunately do not understand with my few Spanish skills. I'm glad not to have traveled alone in Mexico, Belize and Guatemala. Because it was partly very annoying. The blond hair did not make things any easier. Even if Kieran or Jesse rode a meter in front or behind me with their bike, air kisses would flew to me. When I was sick and so weakened that I could'nt walk anymore I took a taxi to the hospital. The taxi driver tried to persuade me to marry his son. Showed me his photo several times. This happened not just once. I took it with humor. Apart from exceptions in the higher educated classes, women in Central America still have  traditional roles. They stand by the stove and have to take care of the children. The woman gets  at last to the table while the others are almost finished with food. I was often asked why I was not married at nearly 30? I was looked at compassionately.
Here in Scandinavia I feel a gender equality in society. itfe els even stronger than in Germany. But maybe thats due to statistics being in my head. I haven't gotten the question 'You make a bike trip as a woman?' yet. 'You two women alone?' How many times have I or we heard such comments. In the USA as well as in Mexico. Here in Norway and Sweden this stopped. 
Isn't it intersting that in the poor countries the hospitality and willingness to share is usually very high? I'm not saying we are not hospitable in developed countries. But my experiences coincide with those of others. In many poor countries it appears more intense and often. Maybe it's because it seems more intense. The contrast is stronger if you get invited by a person who has less. In Mexico and Central America we got invited to sleep in houses and cottages that had no running water. Instead of taking a shower, we cleaned ourselves with water out of a rain barrel. Cooked on fire places. Sharing is an essential part of life in the Latinamerican culture. These are just examples.
In Norway in particular wealth is evident everywhere. In the general infrastructure (for example, the smallest villages are connected by a four kilometer long tunnel to the main road) or even in the private sphere. Almost everyone has one (or two) huts or cottages in nature. What was it that made Norway so rich? Fishing or oil? On queries I got different answers.

Even though I thought I had overcome my culture shock during the three-month break in California, it still caught me. I spent more than six months in Mexico, Belize and Guatemala. This time made a big impression on me. Therefore I have probably perceived all these differences very strongly.
One thing remains the same everywhere. Whether in the USA, Mexico or here in Sweden. Their sound is no music in my ears. Fairly it must be said that they are not dangerous here. No malaria, no dengue and no zika can be transmitted. But they are equally annoying everywhere: mosquitoes.
You enjoy reading this blog and want to support me? Help me here!