OR how much money do I need for cycletouring?
Some ask directly. Some do it after some time. You can see that some really want to, but they never ask for it. Whether before the trip, in the middle or probably afterwards. The one big thing.
Money.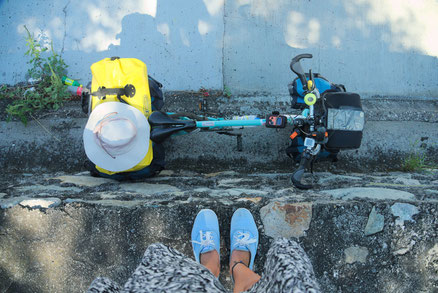 During my preparations, I got asked that one question over and over again, whether I would make soooo much money with my former employer. Or if I had married a rich man. I can deny both. If someone has offers for the second: please send applications by mail.

Is it not that strange that in our (German) society, friends are hardly asked for their salary? It is improper. Referring to statictics Germans talk the least about their income. I've decided to talk about how much money I spend on that trip, because there is so much interest. Let's be honest, it's not happening without money. And for those who never done that before it might be interesting.
Here are my average monthly expenses.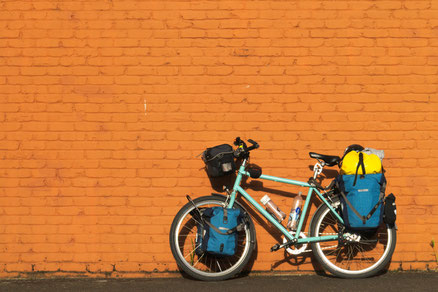 Before.
A big pro for cycletouring is, that you have no   (or not much)   cost of transport  :-)
You can read a lot on the Internet, but I think you should be careful with general per-day calculations. These are only useful if you take a closer look at certain factors:

destination

which expenses are included?

duration of the trip



Because there is huge difference whether I travel to the USA or to Asia, Central America etc. The developed nations are more expensive for living than second and third world countries of course.
And then it should be clear which costs are included in the calculation. There would be purchases BEFORE the trip. These can become expensive, especially if you are not fully equipped. This includes of course equipment, but also insurance, the flight, etc. And costs DURING the trip.
And the duration of the trip is an important factor. The longer you travel, the less cost you can have on average per month. Because you have time you can:

can always look for alternatives. If I need to get a bus I can take the slow but cheap one instead of the fast one.


self-catering and camping is cheaper, but you get heavier and slower (more equipment and food in your bags: bike is heavier, you ride slower and cooking yourself consumes more time than just buying)

search for cheap accommodation, campground or wildcampspots takes time

gain an enormous amount of experience: Where can I save money?

How can I travel cheaper?

One develops with time a kind of feeling for it



The budget option is not always the pleasant. After a long and exhausting day looking for the cheapest hotel or a campground, in a country whose language you don't speak yet can be annoying. And then washing your clothes per hand ...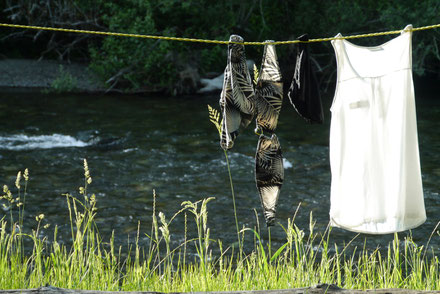 My average monthly expenses:
I will tell the daily main expenses such as food and accommodation, all other expenses you will find below. The expenses BEFORE the trip such as equipment, insurance etc. are NOT included.
---
Mexico, Belize & Guatemala
~ 750 €
barely restaurants; 95 % self cooking
no expenses for water
no hotels/hostels; only campgrounds (nearly just the state campgronds with hike&bike site, 5-10 $ per person, shower is sometimes extra), unfortunately not much wildcamping; Warmshowers 30%
---
~ 400 - 500 €
restaurants und streetfood 40%; selfcooking 60%
water per day ca. 1,50 $; later I boughta waterfilter
hotels 40%; camping and wildcamping 30%; Warmshowers, invitations or sleeping next to a restaurant 30%
The monthly costs also include:

Smaller purchases (small souvenirs such as postcards, stickers, sometimes a new top, small waterfilter 20 $, hygiene articles, etc.)
Larger purchases (new rainjacket 120 $, new powerbank 70 $, new external harddrive 80 $, Ortlieb outside bags 60 $, etc.)
Bicycle repair (luckily only a new Rohloffoilkit, new kickstand, new pedals)
Sending packages home or getting one (for example USA -> Germany: small package cost 50 $)
Transport (ferries in Canada, USA or from the Baja up to 50 $, or sometimes train / bus)
Visas and travel expenses (every country in Central America wants an entry or exit fee of $ 25)
Admissions (museums, archaeological sites, national parks, cenotes ... Varied from 1 - 10 $)
In Canada and in the US along the Pacific Coast Trail life was much more expensive, so we went very rarely to restaurants - only very cheap ones. Likewise we almost only camped. Unless we had Warmshowers - which worked pretty well with 3-4 days pre-planning. The hike & bike campsites at the state campgrounds were relatively cheap. But even in Southern California they want 10 $ per person (showers costs extra). Laundry was washed by hand or at Warmshower Hosts.

Mexico and Central America are of course much cheaper. A good meal plus drink is available for 2-3 $. And for 10-15 $ per person you can go in a really nice restaurant. Very basic accommodations starts at 12-20 $ for a double room (here it is practical to travel in pairs or groups). Wildcamping, sleeping on private grounds from people or besides a restaurant costs nothing :)

From Mexico on you have to buy water, since the tap water is not drinkable. Even if it is not expensive, with the time it takes money. After a while we bought only the large 20 liter bottles, since these are much cheaper, even if we did not need all the water. Then I bought a 'Sawyer mini water filter', with which I filter tap water now. The $ 20 have already paid off.

You can live from less. In Mexico you could get around with 300 $ or less per month. If you lower your budget accordingly, cook for yourself and just wildcamp or ask people. But also the entries to the ruins cost money, from time to time you want comfort food like German bread with cheese and coffee. And a couple of nights an the air-conditioned hotel can be nice. You have time to rest and not get bombed with the same questions again and again. Likewise you will feel the need of a private hotelroom when Montezuma's revenge hits you once again.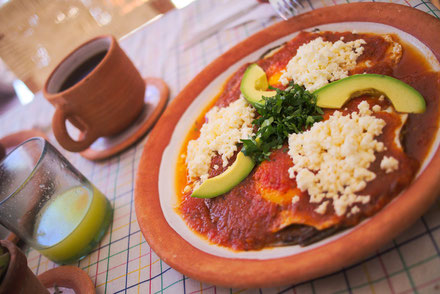 Don't forget:
The following points should not be ignored in the calculation:

Things can break.

They are exposed to extreme stress on a long journey.

And you can spend as much money on quality, sometimes it brakes.

This should be considered for long-term trips.

Experiences sometimes cost money.

The best and hardest probably not, but some costs entrance.

Varied and healthy eating is important.

But also costs a bit of money depending on the country you are in. Here t

he Western products are very expensive due to import costs.

In the USA fruit and vegetables were expensive - in Latin America the beloved chocolate spread is a fortune.

Fees that you can't get around.

Entry or exit charges from countries, v

isas, and f

erries sometimes can not be avoided.

Unexpected payments.

You became sick and you have to pay for the treatment (hopefully you get this back from the health insurance). 
I hope that might help one or another to prepare a trip here in Central America or on the Pacific Coast in the US.