Warm and cold.
Wet and dry.
Enjoyment and struggle.
Together and alone.
About the differences of this world.

(more will follow in part 2)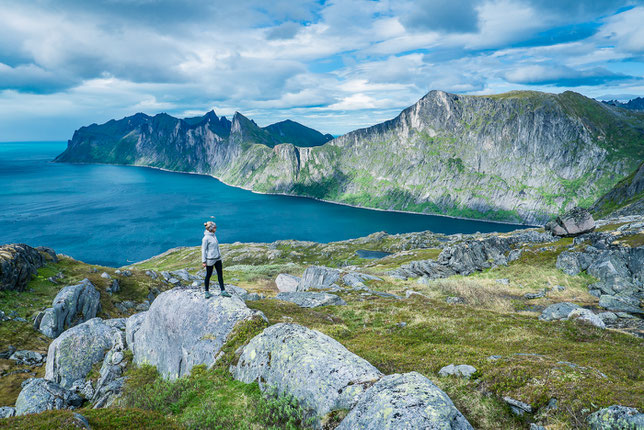 It's making me crazy. It's raining. It's raining and it just does not stop. It's already the fourth day with continuous rain. The temperature is 6 ° C. I pack my tent wet and unpack it wet again, hoping it can withstand these water masses. A few drops here and there come through. At night I wake up quite often to check if it becomes more and my down sleeping bag might get wet. I cook and eat in the rain. My muscles are always tense because I do not feel comfortably warm. Everything is slightly damp.
I'm on a more remote route and I'm annoyed by this decision. Because I have not even the opportunity to go into a cafe somewhere or just sit on a bus stop. Because of all the rain I can barely make proper breaks. I can not stop for long, otherwise I'll get cold quickly. So I just stop quickly to put a banana into my mouth. I get closer to the Swedish border and am glad about the coming pass on a plateau. Because I will finally get warm again cycling uphill. At the same time, however, you sweat underneath all the rainwear. So, when the rain paused, I stopped immediately and took off the raincoat and -pants. Five minutes later it started again. So stopping again, putting on the rain clothes. I had this several times till I began to swear out loud. The frustration needs to get out. And I began to wonder where so much water comes from.
My journey took me through driest regions: California and the Baja California (peninsula of Mexico). That was the absolute opposite. The sun burnt down on us and I often longed for clouds. The heat was partly unbearable and I wonder how we managed it at all. The prevailing colors of the landscape are yellow and brown tones, only a few dry green spots can be found. People are hoping for rain. They get it only rarely. Instead, the sun shines uninterrupted. A woman, with whom we stayed in Mexico through Warmshowers, planned a longer cycle trip. She wanted to start in Norway in March or April and continue in Europe. Instead of a whole stove, she only wanted to bring a immersion heater. She planned to get power from a small solar cell for it. A nice idea. But absolutely not implementable. But it shows how different our sense of normality is.
Here I wish for nothing more than the sun and a little warmth. The first two days of rain were still bearable, but then my mood sank by the hour. This had nothing to do with enjoyment anymore. Well, it was clear from the beginning that such a trip is not just enjoyment. But as always in life, this feels easier thinking about it. The wet reality looked different. I came into my 'persistence' mode and told me that the rain would have to stop somehow. But after four days, my mood was down and I played with the idea to take the bus somewhere. Why did I have to go to Norway?
Because the nature here is breathtakingly beautiful. That's why I had to go to Norway. In Bodø I unfortunately had to say goodbye to Rebecka and then I took the ferry to the Lofoten. There I spent only one night alone until the next evening Peter came. I met Peter seven years ago. He was my couchsurfing host in Stockholm. We explored Lofoten together for over ten days.

The Lofoten Islands. How can they be described in words? Not at all. I also do not think that one should ride them by bike. Because you never get anywhere. Too many hikes to be made, too many breaks to enjoy, too many views to marvel. A paradise for hiking, kayaking and climbing. Indescribable. I hope the pictures will show everything.
I was alone after these days on the Lofoten with Peter. The first time alone again in a long time. This was the time when the continuous rain began. As well as the headwind. Wonderful timing. I had some concern on how it would feel for me. Since I am a very social person, I appreciate good company, interesting conversations and above all shared laughter. But it was better than I thought. Until the rain didn't stop. I hoped for loving angels, those little miracles that sometimes happen. For people who would ask me in for a hot drink or just nice encounters that would cheer me up. On my journey so far, something like that always happened. But here only campervans passed by me and I got several disturbed looks.
Looks like 'why does she cycle in the rain'?

Then the rescue: I could rest for a few days in a shared flat. Three dear young people who live in a place on the Swedish border, which has 36 inhabitants during the summer. I enjoyed being not alone and chatting. I love Couchsurfing and Warmshowers. It is so great to meet different people. Their views, their insights into their lives and work, their living region as they perceive it, learn new things and try them out. In Bodø two Syrian brothers cooked the most delicious Syrian food for us and I told myself to try their recipes at home. A couchsurfing host in the Lofoten took us fishing. After only 10 seconds Peter had a cod on the hook. I'm not exaggerating with time. After we had 'only' three more fish in the next twenty minutes, our host wanted to change the place. Too few fish here, he says.
Thanks to Peter for some of the pics!
... to be continued. Part (2) comes in a few days.
After long thoughts I finally put a support button on the blog. It took me a bit since I originally never wanted to do this. But since just the blog alone costs 90 € per year I decided for it. So you can support me with a small donation if you like. Of course only if you like what you read ;)

 You like that blog and you want to support me? Please do so here!