Through romantic alleys in a lovely town and by bicycle along a stream -
How we explored Bad Mergentheim and its region as a young family and why I have now finally found a prime answer to a question I have been asked a lot.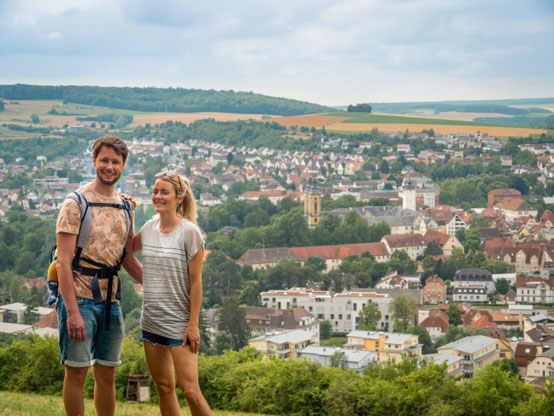 Since the last entry here, a lot has changed. Well, actually, much has remained the same, but there was a small increase - and that has actually changed a lot 😉
Where I used to be on the bike with and without boyfriend sometimes shorter and sometimes, this is now no longer so easy. At this point starts a new, now already insanely beautiful chapter. Traveling as a young family with baby. Since we are still big cycling and hiking fans, it was a great fit when the city of Bad Mergentheim invited us to spend a week there. The city in the northeast of Baden-Württemberg in Germany not only offers a variety of cultural and leisure activities, but is also the perfect starting point in a beautiful and well-developed cycling region.
Cycling and Hiking
With baby we didn't want to do a crossing of the Alps on the mountainbike. We are happy when we get to ride at all and the baby eventually falls asleep comfortably. If he then wakes up later, we take an extended lunch break (as if we hadn't loved that before...) and have found out for ourselves that we can currently ride a maximum of fifty kilometers per day with him. Fortunately, there are plenty of them in the Bad Mergentheim area.


First and foremost, the 5-star bike path "Liebliches Taubertal - the classic" should be mentioned here. This leads over a hundred kilometers along the small river Tauber, through the middle of Bad Mergentheim. The town is therefore an excellent starting point for a day trip along the classic route.
The path is the only bike path in Germany rated with five stars by the ADFC. It is a dedicated cycle path that leads almost continuously through the countryside, far from roads, and is also completely paved. Along the route, many cultural and gastronomic temptations invite you to make stops. Since it always goes through the beautiful green Tauber Valley, there are also countless spots in nature that are suitable for picnics. You hardly need your own navigation, because the signposting is very comprehensive. And the infrastructure is also adapted to us cyclists: Many hotels follow the ADFC standard, so they are adjusted to the special needs for cyclists (bike room, packed lunches, etc.).
In my opinion, the tour is also suitable for beginners for this very reason. I often get mails from other women asking me if I can recommend a nice, not too difficult and safe beginner tour. And I have to say, with the "Lieblichen Taubertal" I have finally found my parade answer.
It's not a trail where you reach your athletic limits or see spectacular views and landscapes. But for everyone else who just wants to do a nice, lovely tour such as beginners, families and people looking for relaxation, it is perfect.

However, the Lovely Tauber Valley is far from being the only route in the region. From gentle short tours, sporty climbs, special wine bike tours to excellent road bike tours, Bad Mergentheim offers a variety of different bike routes. We still rode a circular tour through the Wachbach and Vorbach valleys, which made us sweat on a few small climbs.
But when our son at some point made it clear to us that he didn't want to sit alone in the trailer anymore, we went hiking the next day. He came in the carrier on Dad's back and off we went along the panoramic trail around the city.
Adventure Offer
 If you want to make a slightly different excursion, you can reach the local wildlife park in the city in 30 minutes by bike, which is of course a great experience, especially with a child. I must admit that I personally always have a hard time when it comes to animals in captivity. But this wildlife park can be visited with a "good conscience " in my opinion. Many of the enclosures are integrated into the landscape and thus offer their inhabitants not only a relatively natural habitat, but at the same time they allow a natural impression for the visitors. The invisible-looking fences also contribute to this. Likewise, most of the enclosures are largely and offer some retreats for the animals in case they want to hide from the next approaching school class. During one of the free tours, we also saw that the feedings are as species-appropriate as possible to keep the animals fit. For example, the wild cats had to grab their food from a leash that moved back and forth, which didn't work without jumping or climbing the trees.
Especially impressive was the wolf pack, which is actually the largest in Europe. We even had the great fortune to see wolf pups at play, which has touched my mother's heart especially 😉 Our son then enjoyed most the petting area of the zoo and the chickens and goats - that was perhaps also because they came particularly close because they were interested in the food we gave them 😉
What is definitely worth a great experience: You can book an overnight stay in the construction trailer of the game park. There you sleep then directly at the wolf enclosure - wolf howl included. Bad Mergentheim also offers other great overnight experiences. Since the city is located in a wine region, it is possible to spend the night in a wine barrel and participate in one of the numerous wine tastings or hikes the next day.

And if you just want to put your feet up after a long bike ride, you can do that perfectly in the Solymar Therme. Flo and I took turns here relaxing in the really beautiful sauna world or also bathed in the thermal baths, while the other played with Jannek in the baby pool.

Furthermore, the city offers an large program of events for its size. For example, in the late afternoon we watched a beachvolleyball match that took place in the middle of the old market square. That was really cool, as Flo and I are in beachvolleyball fever ourselves right now.
MFG - with kind regards" - as a little tip on the side: on August 6, there's an open air of the Fantastischen Vier in the castle of the city. That must rock pretty much especially in the ambience of the castle!!!
Charming little town
Enough of the interesting lists. So what makes Bad Mergentheim special?
Perhaps one or the other reader of this blog still remembers that I like to ask people and inhabitants of a country, a region, a city, what makes them so special. After all, that's what travel is all about: sensing, experiencing and inquiring about the character and peculiarities of foreign countries.

Many people from Mergentheim gave a rather classic answer to this question: "We are very friendly". But despite the awareness that this answer comes from almost all the locals of this world, I have to agree with it. Granted: If you come from Berlin, every non-Berliner seems to be a symbol of friendliness. But still, I have to say that the people of Bad Mergentheim go one better here. Whether it was a saleswoman in a bakery, whom I asked whether I could visit their quiet little place for payment, who then kindly refused the payment and even filled my water bottle, or the warm-heartedness and openness of the owners of the Hotel Alexas (at this point I would like to expressly praise their vegetarian cuisine!), which made our stay round - everywhere we met people with a smile and helpfulness. You can feel that the inhabitants do a lot to make the city and region attractive and support each other.

For me, Bad Mergentheim is the embodiment of a charming, historic German town. It brings with it many interesting stories, which we were privileged to listen to in a personal guided tour of the town. You walk through small romantic alleys and can enjoy the many old half-timbered buildings, as well as small details like the old drawings on the houses. Then again, you suddenly find yourself in front of the imposing Deutschordensschloss, which impresses with its size and in which, by the way, you can also study (how cool is that, please?). Further you walk through the associated castle park and almost wonder why so few people use the facilities here. I know it differently from Berlin, where every green space is immediately overpopulated at the first ray of sunshine. If you walk from the castle park further across the Tauber, you will find yourself in the beautifully landscaped spa park, which invites you to linger on the bench. A special feature here is definitely drinking the healing water in the fountain temple. For the spa guests of the city it is part of the daily task to drink from one of the three springs, for us it was a fun change. All three springs, which by the way also feed the Solymar Spa, taste very different.
And yes - somehow in the end I understood the answer of a Mergentheim resident to my question: these three areas of the city - the city center, the castle and the spa park, form a very harmonious interplay of different poles among themselves. Thanks to them, one can find hustle and bustle and city life, culture as well as rest and relaxation in one compact space. And this harmonious balance is what makes Bad Mergentheim special. It offers just the right balance between a lovely little town, where you don't sink into the anonymity of a big city, and you still find a varied offer of experiences. Bad Mergentheim is no Paris or Rome, but for people who are not looking for the hustle and bustle of a big city, the town has a surprising amount of potential and is perhaps even a small hidden champion for a relaxing vacation. And that with friendly people 😉
---