One month language school in San Pedro, Guatemala.
How I learned to calculate in a different way and
realized that clapping your hands isn't as easy as I thought.
And how immersing into a culture can give you a new view on things.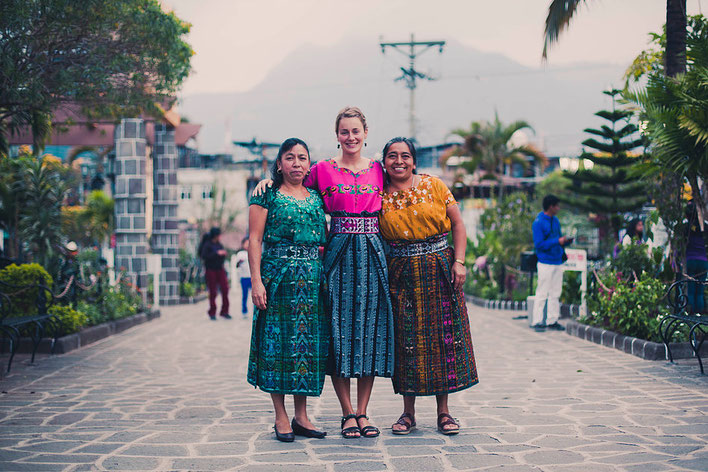 Thanks to Franzi from      Tales on Tyres     for that beautiful picture!

A break for one month I thought. Little did I know at this point that it was going to be longer. Meanwhile, I've been off the saddle for longer. But I still want to report from this month, because it was different from the previous ones.

But once again for explanation: Kieran and I decided to attend a four-week language course at the Community Spanish School in San Pedro at Lake Atitlan in Guatemala. Five days a week we have four hours of Spanish lessons in the morning or in the afternoon. This takes place with a private teacher. You have the opportunity to decide on what you want to concentrate while learning. During this time you live with a local Maya family. There you have three delicious meals six days a week. All in all, these four weeks cost about 800 Dollars. Definitely more expensive than my normal monthly expenses, but absolutely worth it and recommendable also for non-cyclists ;)
This month was different. On the one hand, it was my first longer break in ten months on the bike. I had a home for four weeks. A private room. A place where I could spread out my things, set myself up and be for myself. I didn't have to make any plans for the next few days. No food to buy, not to cook, could just sit on a table with prepared food three times a day. And Kieran and I had a family. It was a bit like holiday during vacation. I enjoyed not having to cook, to have a bed and to allow my body to rest. And go to school. Haha ... That was actually very nice. Looking back into my childhood thoughts the idea that school can be fun didn't exist. At least the idea to learn something voluntarily. Maybe this means that I have grown up somehow.
The other difference was learning about a culture. Even though I had traveled through Mexico and other countries a few months before, I suddenly perceived things differently. On Baja California I was confronted with tortillas for the first time in my life. Here in California everybody knows them, but in Germany I did not often seen or eaten stuff like that. Mexican food is not common. I couldn't explain the difference between tacos, tortillas, burritos and nachos. Now I know it. But it was not before San Pedro that I became aware of the importance of Tortillas. I watched Anna - my mother for one month, kneading and shaping the tortillas from dough. How she worked with the individual doughballs and then clapped them flat with her palms. Six, seven, eight times she clapped, then turned around, then clapped again until it became a round tortilla. Then it get's baked. Me, who would probably call myself quite good with crafts, also tried to do that. I love to bake, so I thought it can't be to difficult to do tortillas. But the dough was hard to work with. Incredibly sticky. Later at dinner everyone laughed. My tortillas were clearly not as good as Annas. And then we walked. To school and back. To the next shop and the market. And suddenly, at every corner and every house I passed, I heard the clapping of women's hands preparing the daily tortillas. Everywhere and at any time of the day. Edgar, the father of the family, took us to the surrounding mountains, where he showed us his piece of land, where he grows corn. It was not a big piece of earth, but it is enough to provide his family (and the guest students) with tortillas for a year. It was incredibly interesting to learn more about corn. A food which in our countries does not even approach the value here. Some people feed their families with a diet based mainly on corn. And you can find the importance in the history of Mayans as well. The corn is a icon of the Mayan culture. Its four (!) existing colors white, yellow, red and black taste not only different, but also symbolize different meanings in the Mayan culture.
The afternoon activities of the school were equally interesting. We could try weaving in a very traditional way, we visited a small local chocolate factory, where we watched and helped to get chocolate out of the whole cocoa beans. I learned a new way of counting in the style of the Mayans, learned about their medicine and wore the typical traditional clothing for women. We went on a two-day excursion by horse with friends, camped in the forests of the mountains and sat in the evening at the camp fire. Listened to the sounds of the marimba, the typical gualtematic instrument. I saw coffee plantations. As a former co-worker of a cofferoaster I was particularly interested. In Guatemala you can find very high quality coffee beans. The ripe red coffee cherries are picked by hand, which in contrast to the mechanical harvesting method is another quality feature. I looked at the huge sacks filled with red cherries. Later on I got to know how much a worker earns here when he plucks 8-10 hours a day. 50 quetzales. That is 6 Dollars per day. You can hardly live from that even in Guatemala.
This is why things are sometimes handled differently here. If stuff breaks they repaired it. Not always professional, but everything somehow helds together and is brought back to work. If five seats are occupied in a normal car, people will get stacked. The bus is full when there are so many people that no one can breathe anymore. These everyday improvisations definitely do not stand up to any Western safety standards. But they work. And if you just look at the traffic for example, you will see cars and buses which are full. You won't see endless car lines, one car bigger than the other one, in which only one person sits.

Things also get improvised when you go on a 2-day horsetrek. Saddle bags are overestimated. Our Ortliebs were quickly put on to the saddles with cords and loops. Not necessarily the most comfortable option, but it worked somehow.
And last but not least the language played an important role. Even though my Spanish is still far from perfect we were finally able to express ourselves well enough that we could ask more complex questions, answer questions and above all we understood the people better. We learned a lot about the Mayan culture. The life in San Pedro, the history of Guatemala, their people and their habits. Problems in society as well as traditions. And we saw and heard of the everyday life of the Guatemalan. It is also exciting to immerse in a new language. To get to know and understand their specifics. Commonalities and differences. Sometimes it was easier for me to translate some things in German, sometimes in English. Sometimes the German language seemed more logical to me, sometimes the other.
To spend time in a particular place gives you the possibility to look at things differently and to actually get to know it. More intense as if you just travel from place to place. You are able to immerse.

Even though the whole time was a bit limited by my illness(es), I enjoyed every day. Tried to suck in the culture and learned Spanish. Almost every afternoon we sat down at our desks and learned. Unfortunately I notice how the vocabularies already disappear and the different tenses as well ... But one time I will use it again.

Now I enjoy a green California. I feel much better and I discover my love for mountain biking. Go jogging and practicing yoga. Am surrounded by wonderful people. Reflect and learn about myself. And do not think too much about what comes afterwards.