[= Untranslatable German word. Wald = wood/forest; Einsamkeit = loneliness/solitude. The feeling of being alone in the woods]
About the only indigenous people of Europe, small encounters and the enjoyment of nature.
The meaning of the word 'lagom' and why I'm a big 'fika'-fan.
And what is typical for Sweden.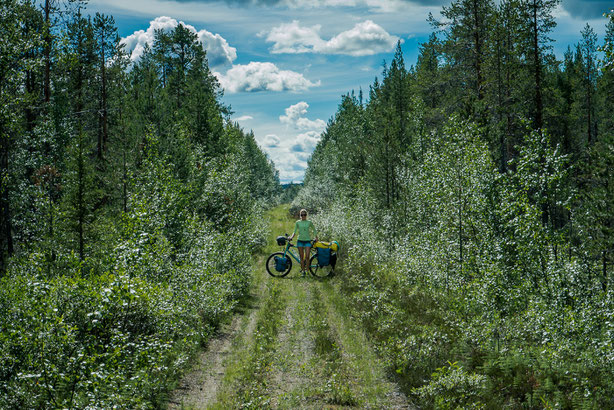 The lovely Sweden. For more than a month I was cycling through the country. The landscape is far less varied than the Norwegian coast. From the border to Kiruna are still the outlets of the mountains. Soon these will be passed. Instead the forest, which in the north has grown rather thin and low, is slowly becoming denser and taller. One lake after another emerges. Everything looks less spectacular, but also far less rough. The weather is more stable. Although it is not really warm here, but this seems to be common in summer '17, as many assure me. I'm happy as long as I'm not ending up in rain for days. At first I hardly see houses at all, only every 50 to 100 km. I'm passing through a lot of forest and marshy lands, not to forget the lakes again and again. I would prefer to be only on Gravelroads, but unfortunately these do not really seem to connect in the far north. I find no routes, only pathes to the left and right. After a while I can finally get away from the paved road and find off-roads- they cost more time, because they are more intense to cycel on and I also do a lot of Zick Zacks, but I'm alone. Absolute peace. I see mostly reindeer, elk and maybe one - two cars a day. At some point the typical red houses start to show up. They are surrounded by flower meadows and lined on the gentle hillsides. Lakes right and left. Rocks look out. Farms with several houses are reminiscent of earlier times. Old wooden fences separate the cows from the horses and forming the picture. I'm in the midst of the lovely romantic Astrid Lindgren world.
The better weather somehow attracts more contact with people. When I ate some bread in front of a supermarket in a small village, an elderly gentleman asked me to wait for him to come back. 'Young lady, please wait here. I have a present for you. ' When he slowly and a bit wobbly came back 10 minutes later, he gave me a hat with a mosquitonet in front. He must give me this as protection he says. He would be afraid that I would be eaten alive otherwise.

At a campspot by a lake comes an Ukrainian couple in the evening before I get into the tent. They want to cook Borscht and invite me. Since I'm super tired we decide to meet the next morning. When I was about to leave at 10.30 am, both woke up and wouldn't allow me to get on my bike before I had tried their soup. The short and delicious soup gets into a two hour conversation including coffee. Since both unfortunately don't speak English, we only communicate via smartphone and translation apps. Kind of funny. Just a couple of years ago the conversation would only have happend with hand and foot. Today, we can even talk about politics in a simple language.
I visit the ice hotel in Kiruna and I'm charmed by the art that surrounds me. Each room is handmade and individual. It is -5 ° C and I feel like an ice princess between all the majestic buildings. The hotel is cooled by solar power, very effective, since the sun doesn't go down.

Likewise I learn a lot about the culture and the people of the Sami during a visit in a Sami village near Kiruna. The Sami are the only indigenous people in Europe. And as with all indigenous peoples, they have a long history of struggle for rights and traditions behind them. Central importance had and still has the reindeer. They live with and from the animal. I meet reindeers daily on the road and I try to spot the markings on the ears. Each animal has a family-specific marking and thus it is clear to whom it belongs. Also their antlers make each one unique. There is no antler as the other. They can grow two centimeters per day by the way.

Camping here is an absolute dream. I think I have set up my tent at a lake all over Sweden. There was just one evening without a nearby lake. That was the last night before I reached Stockholm. Apart from that, I had fantastic spots every night with amazing views and clear water. A true paradise for wildcamping and traveling by bike.
Even if I met some people and had lovely couchsurfer hosts, I'm most of the time alone. I cycle along empty roads, start talking with mosquitoes and also to myself. I'm camping by secluded lakes and forests. Stop when I see blueberries and go into the forest to pick a few handfuls. When I'm stumbling over chanterelles, I cook my dinner out of them. I sit in front of my tent and enjoy the sunsets over the water. Partially I make fire. So there is the perfect camping romance. I'm alone but not lonely. Nevertheless, I enjoy the forest solitude. BEING pure in nature. Not hundreds of people around me. No civilization. I find peace and quietness. Feelings of absolute well-being. And happiness.
IKEA, H & M, Astrid Lindgren... Some also know the Midsommar custom. But Sweden is more. My personal favorite is the word 'fika'. The translation is no more than 'coffee' or 'coffee break'. In fact, it is more than just a word. It is a deeply rooted social institution. You drink a coffee alone or together, possibly eat something sweet or a sandwich as well. In the best case one has several fikas daily. You meet with friends, colleagues or you have one with yourself. The focus is the comfort and relaxation. The l.o.n.g. coffee break.
Now I finally have a name and legitimation for my afternoon coffee breaks. For me it is one of the most beautiful moments of the day, when I'm looking for a cozy place, get off the bike and take a long break in the sun. I get the stove out and enjoy a cup of coffee, while the bees buzz around me. I sit in the green and just do nothing.
An equally interesting word, which is not easy to translate, is 'lagom'. It means as much as 'just right', not too much and not too little. Or even average and mean. I often heard this word in response to my question, what is typical Swedish. It is a separate word and is not so easy to find in another language (except Norwegian and Finnish). It can only be explained. This makes it unique to itself and at the same time the Swedes proud. It points out that the Swedes love the middle way. Everything is lagom, the politics, the people, their own resume. One is satisfied when it is lagom. It is like an ideal when it is lagom. A state of general satisfaction and the middle way. In itself wonderful, if a whole nation is constantly satisfied. Could make you envious.

What was interesting, however, were the discussions developing. Sweden would in part be too eager to be lagom. Always have to be in agreement with all parties involved in the hearings or negotiations. Swedes would be afraid to be not in agreement with everybody. Likewise sometimes criticism was missing. Instead of always being satisfied with the given condition, one could also do more. To draw attention to something, develop something, improve something. Just not always being satisfied with the status quo (even if this is very desirable in comparison to other nations).
At this point a big thank you to all readers.
To the writers of comments, lovely mails, encouraging words,
questioners and to the supporters of the donation button!
You like reading that blog and want to support me? Help me here!