When it's getting too dark, cold and uncomfortable for camping.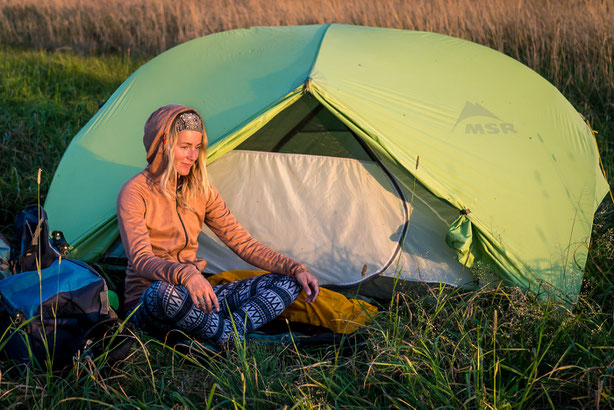 This blogpost is a cooperation with bett+bike.
How nice it is to pitch the tent in peace, sit down, cook, read, let the thoughts flow and enjoy the beauty surrounding you. If there is a beautiful sunset, you will find yourself in paradise. Well, that sounds all too good, if only it was always summer time. However, the reality of the last three weeks of my bike trip looked a bit different unfortunately.
With a cold and rainy summer in Scandinavia I didn't get very lucky. So, all I could at least hope for was a golden autumn, but unfortunately, that did not happen either. Instead it was raining almost every day, the fog covered many of the fields I passed and the color grey became my daily view. Bravely I put up my tent here and there in the beginning. Until I realized in the middle of the night, that my sleeping bag was not what it used to be ten years ago. I didn't get warm completly. Drying the damp thing and other stuff also became an impossibility. Hats off to all the brave autumn and winter riders, adventurers, campers and all the other travelers out there. If only I had had any of them as company, then at least I could have had talks after 6 pm in the evening. But I was alone. Thus, I sat there in the dark. As much as I like to read, there are limits. Reading for three hours in the evening gets boring and unfortunately, there is not much more anyone can do while being in the tent alone at night.

So I started looking for more Warmshower hosts. Obviously, this does not work all the time since you can't always find one everywhere. What's more, I sometimes want to be alone. Therefore, I also started spending the nights in cheap hotels and accommodations. Many thanks to some readers among you who supported me here :-)
It would have been useful at this point to have already known of bett+bike. With the help of their website and app you can find bike-friendly accommodation in Germany and eight other European countries. The question of whether the bike fits in the room is completely nonrelevant here.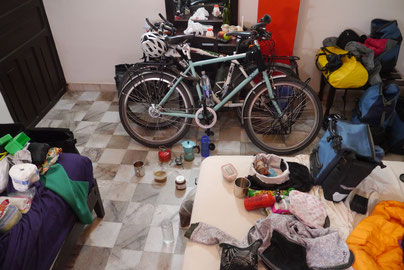 Accommodations listed on bett+bike must meet their quality criteria. This includes for example a lockable room for storing the bicycles, drying the equipment and providing a repair kit. You can also get breakfast. Also it is perfectly okay to book only for one night. Campsites and apartments are listed as well and have to meet corresponding standards.

bett+bike belongs to the German bike club ADFC [Allgemeiner Deutscher Fahrrad-Club]. When I looked at the map of Germany I was very positively surprised at how many accomodation possibilities are already there. For the remaining countries Denmark, Austria and Luxembourg accomodation can be found covering a nationwide area, but also in the other countries (Switzerland, Croatia, Belgium, Netherlands, Poland) you will find interesting offers. Incidentally one can also download the possibilities as POIs in your GPS.

In my opinion the search itself could be improved. You can look for regions and places and you will get all possible accomodations, but unfortunately you can't filter these for types of accomodation or prices neither on the website nor on the app. For example I can't get possible campgrounds around a certain city.

But you can look for accommodation on all well-known bike trails, which greatly facilitates travel planning. For example I found 334 search results for the Elbe Cycle Route. If you zoom in on the map there are many different options along the route, which leads - just as a side note - through the very beautiful Dresden and Saxon Switzerland.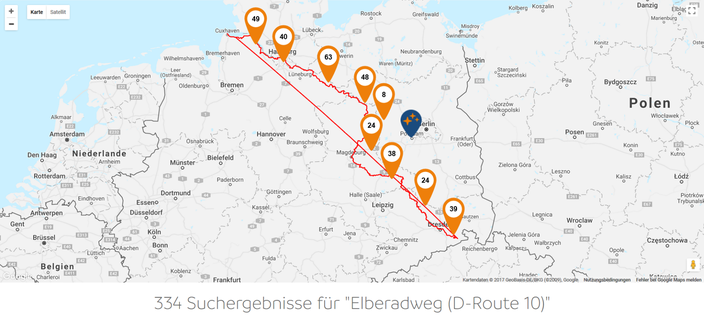 Thanks to that search function you will find a lot of inspiration on the website regarding tour suggestions. You can also find special accommodations like old farm houses. Maybe interesting for families who prefer having a base and doing day trips with their bike.

Also helpful are extra categories such as city, e-bike and sports. The last one is ideal for the next MTB holiday and offers all sorts of useful extra quality standards. This will certainly find a suitable place to stay, from which one can start on all kinds of trails.

The app from bett+bike is available for Android and iphone. Immediately nearby accommodation options are displayed if you allow location access. However in my opinion the app has room for improvement. One example is: you have to synchronize the data records with each start at first for example. That is a bit annoying, but when I contacted them about this issue, they assured me that they will keep working on the app to improve it.
So no more excuses for a nice autumn or winter tour. Tent and stove can stay at home. Although the spontaneity gets a bit lost; something that I really love about camping, the planning is less annoying thanks to such tools. And if you're traveling alone and want some company or you just are on a tighter budget, you can still make new friends while visiting Warmshower Hosts.