From warm childhood memories and doing nothing.
Oh - and a bunch of pictures.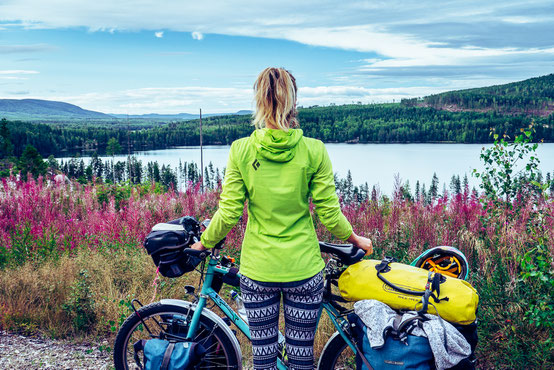 Sweden has always had a special value to me. It is not just any country. It has a valuable status for me. The reason is my childhood. When I was still in my mother's stomach I swam with her in a lake in Värmland, Sweden. From then on, every year I was bathing in this water. Even beyond childhood I was always attracted to that place. It's probably my grandparents fault. 35 years ago they decided to build a small house on the edge of the forest there. They spent most of the year there and rarely came to Germany. That's why my family spent every summer and partly also the winter holidays there.
My family lived in different houses, but alwyas somewhere next to my grandparents. The first one was a large old house on a hill. It was wonderful. It had neither running water nor a proper toilet. We went out to the latrine, where we could even sit next to each other, thanks to two holes. From there we looked down over the fields and the edge of the forest, watching moose while we were doing our business. With an old wooden boat we crossed the lake over to my grandparents, where we spent more or less the whole day at the water. My younger brother and I were more in the water than outside of it. It's amazing that children never seem to fear cold water. My mother or grandma shouted and ordered us to show our lips to them. Even if these were already quite blue and we were shaking, we didn't want to get on dry land. We had just conquered new land and won the fight against the pirates.
We were explorers, sailors, divers and adventurers. Swam on my fathers surfboard to the next rocks, went off  to explore the new land. Dived through the crystalclear water and watched the fish under us. Grandpa took us fishing. Both summer and winter. However, we were always too loud and therefore, the so much hoped-for fishes were not coming. But still: photos show my brother, with a strained face,  proudly holding up fish half of his size to the camera. We often sat in the boat because the many fishing lines of my grandpa were completely tangled. Half of the time he spent sorting them apart.
We gathered mushrooms and walked through the woods. Mom sent us out with a little bucket to find some berries. We were supposed to pick strawberries, raspberries and blueberries, but most of the time we came home with a pretty empty bucket, but completely red-smeared mouths. We wandered over wild meadows, along small dirt roads and jumped through puddles.
We collected tadpoles in puddles. We didn't want to leave them there, exposed to sunlight and possible dehydration. So we took them to the lake and let them free. Huge grasshoppers were caught and watched for a while in the large glass until we released them into freedom again.
The house of my grandparents was and is a place of pure comfort for me. As for many, grandma is the best cook and grandpa was the best since he always gave me foot massages. However, I regularly had to fight against the cat, because he claimed his place next to grandpa for himself. Mostly we ended up like this: I petted the cat and grandpa my feet.
We were left for ourselves. We could do whatever we wanted. We were lost in time. Just like long-term travelers, who forget what day of the week it is. We experienced a kind of Bullerby summer romance. These were the best holidays of my childhood. Every summer. Even as an adult I drove to the house of my grandparents. I spent my summer holidays partly alone in the house in the forest and I did: ? Nothing. Nothing and yet so much. I read. I cooked. I went into the woods for mushrooms. I layed in the sun. I walked around the area. I smelled the freshness, which lays in the air after a summer rain. I sat in the sun and did nothing. I enjoyed doing nothing. I was lazy. I was alone. I got to know myself. I breathed.
Sweden seems to have become a kind of metaphor for me. When I see the woods here, the lakes, the flower meadows and red old wooden houses, I immediately notice this feeling  inside of me. A feeling of peace spreading through my body.
What did we do during the summer holidays? Not much. No excursions, no visits to any entertainment park, no further education, no courses. We were just there. And I felt freer than ever. We live in a society that expects constant performance. A steady DOING SOMETHING. Everything should be done optimally. One should always evolve. Experience new things. Also during leisure time, the weekend, on vacation. There are expectations to show off a perfect life on Instagram, facebook and co. You should proof society that you have DONE something, that you have USED your time optimally, that you have EXPERIENCED something. We had the exact opposite. We drove every summer to the same place, did the same, and did not go to some distant countries. Back at school I was sometimes sad and envied the other children, who told about hotel facilities and different places. Today I am happier than ever, that we spent the summers as we spent them. With DOING NOTHING and only BEING there.
I still need that. Doing nothing. Let my soul fly around. Let my eyes and thoughts wander. Daydream. Or enjoy company.
During my Swedish tour two friends from Dresden visited me for ten days. Cycling became second priority. Instead, we spent hours in the morning with chatter and laughter. Enjoying the get together. Towards 2 or 3 o'clock in the afternoon we managed to get on the bikes and cycled about 70 km until we got the next camp fire started and talked.
I am currently in Tallinn, Estonia. In Stockholm and here I have had a few days off from biking. Time spent with great people and doing this and that. I visited Peter (from the Lofoten Islands), saw Rebecka again (with whom I cycled in Norway) and got a visit from Germany again.

In the next days, however, I will be back on the bike again. The Baltic States and Eastern Europe are waiting for me!

You like this blog and would like to support me? Help me here!