Why a sleeping mask can be important.
About rain. Much rain.
And breathtaking nature.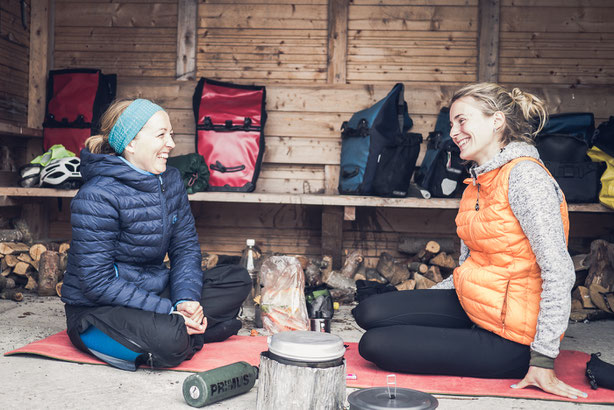 The temperature is 11 ° C. I sit on the bike and the rain is pouring on to my face. The wind makes everything seem even colder. What's going through my head? An old German advertisement for a hand cream ... One sees a fishermen on a typical wooden boat, the waves are crashing on their hands and everything seems rough. The man says something like: "We know what a good hand cream is in Norway. Buy the hand cream with the Norwegian formula." I actually have an incredibly dry and chapped skin on the hands. Aha, suddenly the advertisement makes sense.

Norway. A breathtaking scenery. Snow-capped mountains form the most incredible peaks, alternating with wavy rock formations. Roughness vs. Softness. In between are fjords, lakes, hillsides and mossy fields. Always forests. Not to forget the Scandinavian wooden houses in the typical colors like Faluröd (red) or yellow. Everywhere small and large water masses are shooting down the mountains. Mooses and reindeer cross our paths and I can't get enough of seeing the wild meadows that are everywhere. Yellow butter flowers and white and violet color spots form a beautiful overall view. It would be incredibly beautiful. IF the word 'IF' wouldn't be.
"IF the word 'IF' wouldn't be, everybody could be a millionaire" [a german saying]. IF it wouldn't rain so much, we could have enjoyed this landscape much more. The rain clouds are hanging deep. So deep that you can hardly see the mountains, fjords and anything else. If it didn't rain so much, then we could go more often for a swim in the many lakes. If it didn't rain so much, then I wouldn't desperately have had to buy a new pad for the tent as well as water resistance spray. My starting point Trondheim showed itself from its most beautiful sunny side, 14 days later we have the following statistics: From 10 days of cycling we had eight rain days, one mixed and one day of sun. On this one day sun I shot as many photos as on all the others together. The soon to be seen.
Fortunately I'm not alone. Rebecka had written in a Facebook group and was looking for riders. She wanted to go to Bodø. We met and spent the last 14 days laughing together on the bike, despite the rain. I don't know if I would have had the stamina to stand these water masses alone.
 
Apart from the rain, this route is ideal for cycling. There are approximately 750 kilometers between Trondheim and Bodø. In addition there are several ferries which you have to take if you choose the route along the coast. Welcoming ways to dry. The traffic is minimal and mainly consists of campervans. Half of these come from Germany. Rebecka brought up the very positive mention that we give them a good feeling during that much rain. They can see us in the cold rain and hopefully appreciate their warm and comfortable camper.
We needed two weeks for the route. There are many campgrounds, but personally I don't realize why you should pay for them. Wildcamping in Scandinavia is absolutely simple and allowed by the 'everymans right' almost everywhere. You don't even have to look out for spots, you just stop and pitch your tent. If you are looking for a bit and maybe push a hundred meters you can find incredibly beautiful spots with a breathtaking view including a lake or river for washing. Alternatively we even found huts, which were old and abandoned or freely accessible. So we had a roof over our heads and no rain while cooking. In between we were able to dry and relax at a few couchurfing hosts. Warmshowers doesn't work so well here.
Absolutely necessary here? Rain equipment and a sleeping mask. Maybe even earplugs. I wonder when the birds are sleeping here. Apparently not at night. It is not getting dark at this time of the year and from a certain degree of latitude also the sun no longer goes down. Accordingly, I had to buy me a sleeping mask, since a scarf or the otherwise practical Buff don't darken enough. Sometimes I wake up in the middle of the night, hear the birds chirping and think because of the brightness that it must be at eight o'clock in the morning. Then I look at the clock and notice that I just slept three hours. The constant brightness makes the day forever long, so I don't have to think about when it's time to pitch the tent to have enough time left to cook.
Now we enjoy a few more days of rest and want to have a sauna before I continue going on to the Lofoten Islands. More photos and answers to the question "What is typical for Norway?" will be coming soon.