Or a visual report from a weekend get-away.
Changing bikes. Bags exchanged. More carrying than riding.
Short trip - Short report.
And how I'm going to continue soon.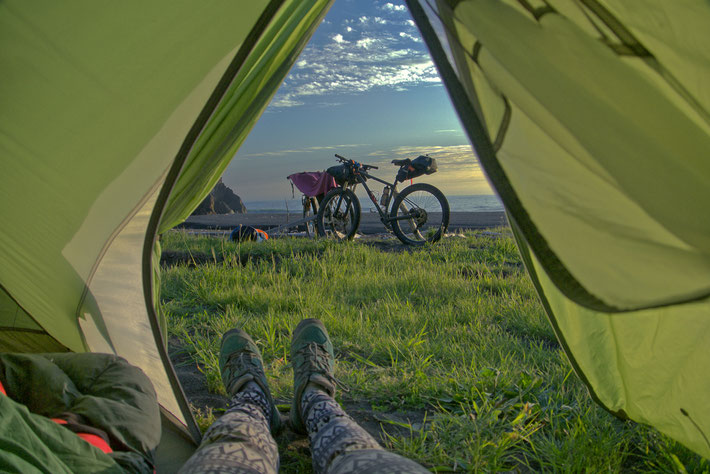 After almost endless rainy days in the supposedly sunny California, Jesse and I took advantage of the promised weekend weather window of three days of sunshine. We grabbed the most necessary, loaded the mountain bikes into his truck and headed for the 'Lost Coast', a northern California coast section which is not populated. There we cycled for three days along half-forgotten trails as it seemed. I stopped counting after 15 fallen trees, over which we had to carry the bikes.
Bikepacking is like Bike touring 2.0. More and more traveling cyclists choose this kind of setup. The bike is not a classic touring bike but a mountain bike. The bags are smaller and are attached at the bike at other points than in classic biketouring. The entire bike including equipment is lighter and more agile. This makes it more comfortable to go on trails and unpaved roads. This can also be done with a classic touring bike, but it is much heavier and takes longer to carry a fully packed touring bike over tree trunks, pushing it on steep or untraceable sections, etc. I could now getting detailed about cost differences, comfort, etc., but this is not an article about the subject of bikepacking. Interested people can read here and here or even ask Mr.Google. Anyway - I tried it for one weekend.
It was fun. Big time. Even if we sometimes pushed more than rode or lifted the bike over tree trunks. But that did not seem to be as forceful as I knew it from before. Since I have to buy a mountain bike anyway in the future, bikepacking bags will probably be part of it (before that I'll win the lottery, of course). Mountain biking got me hooked on: Adrenalin rush, the singletrack trails and going downhill on trails that have now captured me. Fortunately I was able to borrow a MTB from a friend of Jesse's in the last weeks. But for now I'm going back to the classic again.
Meanwhile, I'm fit again and thanks to diligent chocolate and potatoe chips consumption I also added a few kilos. Nevertheless, I notice that my digestive system is not working normally yet.  This reflects the doctors' statements. After taking six antibiotics in four month, my intestinal and immune system has been compromised, it can take three to six months, or even longer, before enough positive flora bacteria will settle again. That means that South America is just not realistic for me. This understanding has taken me some time. South America's hygienic conditions are no better than Central America, and my visits to Bolivia and Chile five years ago reminds me of some experience with parasites and not safe food. There I would probably fall back into the disease circle without a well-functioning immune system. So I decided to book a flight to Norway for the 6th of June. From there I will tour another five months through Europe.