Many people always ask whether the constant cycling and exercise
are the biggest challenges on such a journey.
No.
Other things are the real challenge.
For example a tough decision and an even thougher flight.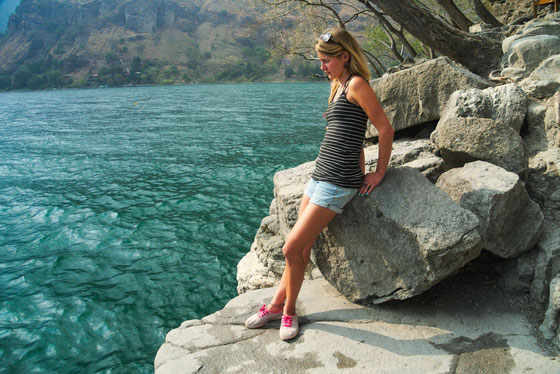 Almost everything works smoothly. Mostly. I can say with a clear conscience that I often live on the sunnyside of life. Although this has a lot to do with your own attitude as I believe, but this is not the issue here. But if I get bad luck, then completly. That's what I'm feeling. It seems like something higher will test me somehow.

Last blog entry: I once again took antibiotics. Against my Amoeba parasites. This time even the right treatment. I felt better every day, had good courage and good hope. Learned diligently Spanish and was happy to come back on the bike soon. One day after my last pill, Kieran and I ate breakfast. Eggs and fruit. Two hours later, we ran to the toilet almost at the same time. Something was wrong with the food. This happens in these countries. The hygiene conditions are not great and the tropical climate supports bacteria. As a tourist who travels for more than two weeks, you will get that sooner or later. It's not as bad, because its stops after 1-3 days by itself. In the past I sometimes had that as well. On previous trips and also in Mexico. But as the attentive reader will know, it wasn't that easy for me. My intestinal system has already been quite stressed in the last 4 months. Five different antibiotics and a parasite that had been living inside of me were too much prehistory for a promising fight against the current bacteria. I tried it for three or four days. And as always, instead of getting better it got worse from day to day. When I was back at the doctor, I ran to the toilet three times during an hour of waiting. I was so powerless that I could hardly walk. And the doctor looked at me thoughtfully, saying what I already knew: it's not working. I have to leave. Away from the environment, which makes me sick again and again. A healthy immune system can fight this, but mine is down. And I did not even have a chance to return to normal status. It was bad luck to get bad food right on the next day. One last time I had to take antibiotics after the doctor did a ultrasound and discovered a large inflammatory in my stomach. My stooltest showed the same.

One day later I booked a flight to San Francisco and applied for my ESTA for the USA.
These days were not easy. I cried again and again. I did not want to finish my trip. Wanted to go to South America. Discover its vastness. Learn more Spanish. And above all, I wanted to get back on the bike. At the same time I realized that it was the only right decision I could have done.

Fortunately there are wonderful people in this world. And they sometimes seem like angels sent at the right time. Kieran, with whom I had been traveling together for four months, my Guatemalan family, Hiren - a student of our school and others helped enormously for my flight preparations. They joined me and I am very glad I was not alone at this time. And they made me laugh. Especially Hiren. One day he suddenly came to me and said I had inspired him. Within two hours he wrote a song about me ;-)
--->
And then I wanted to fly. Still weakened. There are three or four kilos less "bacon on the ribs"[German saying: having a bit of meat on your bones] than usual. With a bag full of heavy Ortlieb bags, my hand luggage and of course the incredibly handy bike box I arrived by bus in Guatemala City, loaded all the things to the check in desk and told the lady from the airline my name. After a few minutes I became nervous, because she did not find my name. After a long search, she found it at last. But on reservations. As it turned out, my online Paypal payment went off from my account, but did not arrive at the airline. So I went to the back office of the airline to ask for help to try to get the payment through. That was however to late now two hours before departure. So I went back to the check in. I tried to pay by credit card. But this did not work. One day before the card was working (and two days later it worked again). Bummer. Then I tried to withdraw cash from a machine. Didn't worked. So I had to give up.
I took a taxi and went to the next cheapest hostel, eating cheap food since I was now low on cash. In the evening I called Jesse, who then booked a flight for me. Another angel. With him I cycled through Mexico for two months and now I'm with him in California where I got to know him through 'Warmshowers' when I cycled down the coast here. I spent the night in a hostel room for 10 people, couldn't sleep because I listend to a snorer next to me. I've never heard someone snore so loudly in my life. The next morning I was at the counter at 5 am and the friendly employee found my name. Then she searched for my ESTA approval. And she did not find it. My heartbeat increased again. To enter the USA, you need either a VISA or the ESTA. And you are usually not allowed to get on the plane if you can't show these things. Fortunately I had a screenshot of my ESTA on the phone, so she could then manually search me by number. Then we went to the bike box. My meanwhile not so friendly customs agent stared at the thing. And began to wobble around with a tape measure. Online it said clear that bike boxes have no dimensional restrictions. Then she started discussing with other employees and it went back and forth forever. Until she finally accepted the box.
I was allowed to go and put myself in the queue for the safety checks. As soon as I left this my annoyed check-in-lady came running. Directly to me. And she dragged me out of the queue. And then it came again. The nervous feeling. I had to go back to check in. There they told me that I had to have the bike box wrapped in plastic film, otherwise they would not take it. 20 minutes later and 18 Dollars poorer it was done and I was allowed to go back through the security control. Somehow I finally came to the gate. Breathed deeply and closed my eyes.
Then my name was called out through the speakers. Fu * king hell. This is a joke. What's going on here. Hidden cameras? My thoughts were running through my head: Maybe they found the fuel stove in my checked luggage? I strolled forward and stared at the people there. A friendly gentleman told me that they upgraded me to Business class because of the inconveniences I had. So I was able to eat in the plane and thought that I almost made it now. But I was wrong.
Stop in Mexico City. I could exchange four Dollars in Mexican pesos. Four Dollars for nine hours of waiting and hunger. But first I had to pick up my luggage and check it in again. This cost me a lot of strength and nerves.

Later I sat on the plane to San Francisco and slept. In the evening at 11 pm we landed and after a long waiting time I came to a very unfriendly young lady. I knew already that the customs officials are not super friendly, but she was outstanding. After a short time she looked at me defiantly and asked me if I knew that a return flight is needed to enter the USA? I swallowed. Got sweats. No, I did not know. I explained that I don't know how I will leave. It could be that I cross borders by bike (eg to Canada). Then she looked at my previous 90-day visa. Asked what I would have done here. I replied that I had ride my  bike from Vancouver to Tijuana. She did not believe that. What did I do in Mexico and Guatemala? Also cycled. She shook her head. I suggested that she could look into my plane ticket, there is a checked in bicycle. Then she sent me to another office after more funny questions. I waited again. There I spoke to a FRIENDLY lady who looked in my passport. She asked me a lot and confusing questions again. But she believed me. And she also found it understandable that I don't know to where I will leave, which is why I still have no return flight. After an hour of anxiety, she stamped my passport and I finally could breathe again.

Then I took my luggage. At least I wanted. Unfortunately I missed my bike. It wasn't neither on the normal luggage strap, nor on the checked big luggage. I asked for help. Even with calling everywhere my bike could not be found. We were wandering around, searching and waiting for a long time. At the moment when we started to write a paper for missed luggage a call came. They finanally found my love.
What a journey. 48 hours in which I was nearly constantly nervous. I asked myself why so much went wrong when I  was exhausted already and still feeling weak?

Here in California I went back to a doctor a few days later. And made another stool test. This cost me a $800 dollars. In Guatemala and Mexico it costed less than ten Dollars. When I heard the price I almost fell off the chair and thought it was a misunderstanding. I hope that I get all the money back afterwards from my private travel health insurance. I do not know if they add gold to the test though. But now I have certainty. No more parasites. Although still a small rotavirus and waaaaay too few good gut bacterias. The doctor looked at me with big eyes when I told her about my six antibiotics within four months. Now I just need time. And good food. It can take up to six months to bring the intestinal flora back to normal level. Mine are completly down. So I still have no normal digestive feeling, etc. But I now take probiotics, drink Kefir and Kombucha and EAT the whole day to get me back to my normal weight.
And mentally, I'm slowly getting better as well. Looking back I realized how I was mentally getting sick as well. I was afraid of any food. It had lost my normal very healthy appetite, pondering and staring at my food with fear I would immediately get badly after eating.

It was a good and the right decision to break out of this cycle. The environment has made me sick with my already weakened immune system. Now I start slowly again with some exercise. For decisions how that journey will continue it is too early. Now I'm enjoying a green California, short bike tours through the surrounding woods, jogging along the coast, yoga, EATING and the time with Jesse, who helped me so much with everything.

And soon I'll post a blog entry from my time in San Pedro, the school and the Guatemalan culture we were allowed to get to know. And many colorful pictures.