Tears running down my cheeks.
My thoughts are going crazy.
And I don't know what to do anymore. I'm desperate. And at rock bottom.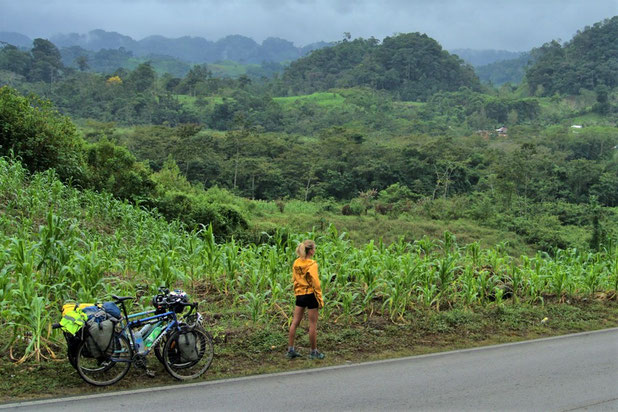 We finally made it to Belize after several attempts and spent a few days there. Belize felt different from Mexico. It is like a cultural meltingpot and it's amazing and beautiful to see how the different ethnic groups live here peacefully next to each other. Nevertheless I missed something. A certain warmth and cordiality. An honest kindness I got to know in Mexico. But I have to admit that we didn't spend much time there. The country is neither large nor mountainous, so you can cycle through quickly.
Guatemala felt more like Mexico. Latin American culture out of the book. We visited more ruins, smaller and more remote ones as well as the great pearl 'Tikal'. Each archaeological site has its own characteristics. All together they form a complex picture of the Mayan history.
We rode through the lowlands in the north and worked our way up into the highlands. We took again the slightly less traveled roads. They led us through numerous indigenous villages, and the further we came to the south, it became more and more hilly. Many children ran to us in the small villages, laughed at us and called their parents. We camped at a village river and were once again the center of general attention. Tents, bikes and especially the stove were admired by the women. They asked me what I would be cooking and watched the entire process.
The people there live very easily. Neither running water nor a proper toilet. Laundry and washing themselves is done in the river. Children and women pick up the water from the river, carry it on their heads home, while the men carry heavy wood with a headband. They walk up those hills, their back bended and sweat on their foreheads. Even small boys of perhaps ten years bear these loads. And yet the sun rises in their faces when they see us. They wave at us with great, curious eyes. And I'm wondering what's going wrong in our world when children complain that they got only eight instead of the ten new plastic toys for Christmas.
After a few days of hard climbing we arrived in Antigua. There we met some other cyclists and spend a few chilled days. More or less forced. Because I'm sick again. It started a week before and got worse from day to day. Until I realized again: It's time for a doctor. He diagnosed an inflammation and parasites again. Antibiotics followed . Yes - again. For months now, Amoebes love me. And the amoeba is a serious illness, as I know now. I have already written about it several times [before I started blogging in English], but the summary is the following: I took antibiotics very often after several different (or the same?) illnesses. Again and again it came back or I got a new infection. For most tourists food intolerances occur after one or two days, I got worse from day to day.
After a few days I'm fit enough to take the next step. We're going to San Pedro on Lake Atitlan. We're learning Spanish for four weeks at a school here. The Community Spanish School is highly recommended! You live with a Mayan family, eat with them, learn and watch their lives, customs, and even practice Spanish in the afternoons after having a private teacher in the morning. Even if it is more expensive than my normal monthly expenses, it's worth it. My Spanish, which I scratched together with the help of podcasts and a book, was sufficient to clarify the important things, but it was not good. Likewise, I really enjoy being able to change from body- to headwork after ten months and have a longer break. And what is better than traveling openly through the world and learn new things?
Once I got there, I felt very good again and I was allowed to stop my medication after seven days.
Three days later I felt strange again. Humming in the belly, slight cramps; nothing bad, but enough to make me sleepless. I'm falling into a hole. It's deep. And is not ending. I'm realizing: It starts again.
I manage somehow to get through the day. But in the evening I can't be strong anymore. I'm trying to call my family and friends, but I have to break off. My voice breaks away. Tears starting to run down my cheeks. I'm laying in bed and begin to sob. A few silent tears becoming a waterfall of emotions. I can't go on like that. I'm desperate. Don't know whats wrong in my body. Don't know what to do.
I'm walking through the streets, seeing the market bustle and the people. The colorful costumes, the long dark hair of the women, the bright eyes, children playing, the open and friendly faces. And the tears are coming back. I can hardly stop them. I don't want to go. Not yet. Four years ago I got to know Latin culture for the first time in Bolivia and I realize now that I love it. I would like to continue absorbing and enjoying it. Learn the language. I want to get back on my bike. And climb mountains while sweating and enjoy descents. Discover the vastness of South America. And above all I would like to decide when I have enough of traveling.
For several days I feel really shity. Not physically. It is the spirit that is at an absolute rock bottom. I think about the options: go back to Germany or to the USA for treatment? To a health system better equiped and without the language barrier. Then either back here to Guatemala? Or travel in the USA or Europe hoping I won't constantly collect parasites or inflammations again but everything within me fights that. These are options, but not what I want. I don't ONLY want to ride a bicycle, I want to ride a bike HERE. On the other hand, I know that continuing like this is not an option. This not only endangers my health, it is also not possible to cycle while being ill.
Then I get voice messages from my father. He is a physician himself, but also called a German tropical institute and reported my case. I'd probably got the wrong antibiotics and drugs, he says. The eggs of the Amoebe have possibly survived everything, so I dragged them with me forever and therefore I always got sick again. So visiting another doctor. He however actually takes me serious. A blood and stool test later I have it black on white: I actually carry the eggs in me. And now I'm getting another antibiotic. A combi-preparation, which also kills the eggs. Suddenly everything appears logical.
Hope and joy sprout out of me. A certain skepsis remains. What if I get infected again? If I simply don't have a good immune system (anymore) in the gastrointestinal tract. I'm talking to myself: Okay, this is the last time of antibiotics. If I'm getting sick again, I will have to take the consequences. For my health it's not worth it.