Or how to ride for ten days and always arrive at the place of origin. And then determining that sometimes you take bigger steps if it doesn't go smoothly.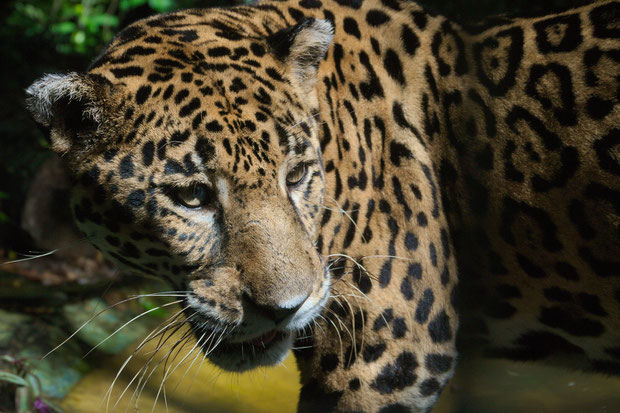 That my heart beats for Mexico I've already written in several blog entries. But apparently it was also the other way round, because Mexico wouldn't let us go.
Let's start with the last blog entry. I took Jesse to the airport, now traveling with Kieran and I needed to go to the doctor after about 4-5 weeks of malaise. Took antibiotics for 5 days. Spent a great Christmas with a great group at Punta Allen. Amongst others with Michael + Anna. The two of them flew spontaneously for private reasons back to Germany for two weeks and Michael said that he would bewitch us so that we couldn't move forward and they could easily catch up with us again. Apparently, Michael has more magic power than he knew so far.
After several days of resting and Christmas-fish-digestion we went on: via Dirtroad back to the mainland.
(1) There we decided to go back to the sea on a peninsula. From Xcalac we wanted to catch a boat to the Belizean Mainland. That would have been so expensive (300 USD) that we took the bus back to Chetumal to spend a nice New Years Eve (2). We were wandering through the streets searching for a nice bar or small club, which unfortunately did not happen.
(3) Then we started another attempt to ride off the 'normal' route. We planned to cycle along the Mexican-Belizian border to La Union to cross the border. From there we planned to go through the jungle via Dirtroads to San Ingnacio. After one day we were halfway to the border. Slept at a natural swimming pool with turquoise waters. The next morning I realized what I had already feeled for the last three days but did not want to realize: My parasite was still in my body. And Kieran had also had an ear infection. We hitched back to Chetumal. There we went to two doctors, because the first did not take me seriously and I felt  what my father and the second doctor confirmed: The antibiotics were prescribed for too short the first time. The parasite was still in me. So I had to take antibiotics a second time plus several other tablet cocktails. Also Kieran had to get medicine.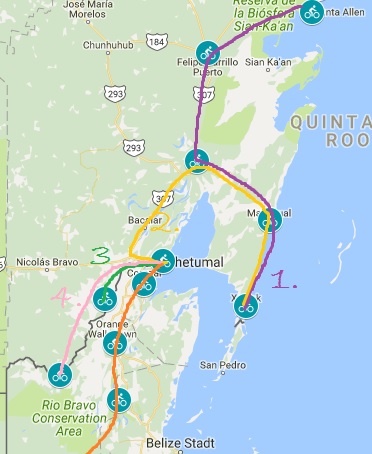 (4) 2 days later attempt number two. This time we made it to La Union. There we found a wonderful place for the night directly at a cenote, a great view and beautiful river. We had a thunderstorm in the evening and when I finally fell asleep I felt a feeling of my collapsing tent. Twice it was struck down vigorously. I screamed out briefly. Then I heard and saw horses galloping away. The next morning I needed my coffee more than ever. My bags were filled with ants, so I had to free them first. A few bites later - my hands and feet were reddened - I finally got rid of them. I pushed my bike up the hill and looked: my third flat tire. After a quick tube change we could finally go. And then we made the 6 kilometers back to the village in JUST two hours. The dry mud piste, which I had watched last evening with a look of gloom, had developed into a horror overnight because of the rain. The mud was sticking to our wheels and above all it was attached to my fenders. Every few meters we had to stop and scratch. Even pushing proved to be a total force act.
And then we finally reached the border. The Mexican official immediately gave us a picnic for the long border crossing; Chocolate milk and Tomales for five meters of river crossing. But we got happy too early. They didn't let us into Belize. Every negotiating, asking and telephoning helped nothing. We had to go back to Chetumal to an official border crossing.
By bus to Chetumal. For the third time. And then I got a light flu. Again we were stuck.
Kieran spent the time with Youtube videos of bike street races. And then went out to cycle. Then came back limping and bleeding. The next day I got better again and we went to the doctor to have his hand examined, since we were not sure if his wrist was a little broken.
In the evening we went through the streets and were approached by a deranged man with an American accent. He told us a very confused story and we both had a 50:50 feeling, whether we should believe him or not. We opted for the good in human beings and gave him 80 USD, which we were supposed to get back. To this day we did not hear of him. A small remnant of faith remains in me, but it disappears. But at least we can say we were trying to help.
Especially the illnesses dragged on me. Not necessarily physically, even if I noticed this while biking, but mentally much more. When the parasite symptoms recurred, I felt into a hole. I knew that if I did not get rid of this, I can't continue. As in the beginning with my shoulder problems it endangered my whole way of traveling. Now, ten days later, cycling in Guatemala, I can laugh and reflect on it. Knowing that these were no major problems. I finally feel strong and healthy again. And noticing that this has taken me a step forward. If not local, but mentally.